Safari is an outfit worn by Gene Marshall while on location for Daughter of the Nile.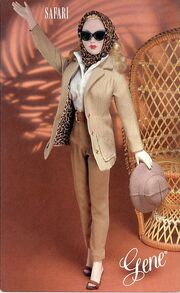 SKU: 94673
Released: 1998
Retired: 2000
Circa: 1951
Designer: Timothy Alberts
Company: Ashton Drake
Price: $39.95
Story Card
Edit
Captivated by the mysterious allure of Africa during the filming of Daughter of the Nile in Egypt, Gene was thrilled when the studio scheduled her to go on safari to the vast plains of Kenya for publicity.  It was a once-in-a-lifetime experience she would never forget.
That day spent with a nomadic Masai tribe, for example.  The photographer snapped shot after shot of Gene with the tall, exotically handsome tribespeople in their beautiful dyed one-piece robes.  Gene's costume inspired amusement for the Masai, especially the high heels that the publicity department decided were perfect for hiking in the rocky bush.  When Gene politely, yet firmly, insisted she do all her shooting of the fabulous wildlife with a camera, not a rifle, she disappointed the publicist, but earned nods of approval from the Masai who did not understand this need to hunt for sport.  But Gene's most unforgettable moment came when a shy Masai girl approached her with a magazine in hand...a Screen Look issue from 1947 with Gene's photo on the cover, well-worn but obviously the teenage girl's greatest treasure.  Gene's dream of stardom had touched a child here, even in this ancient, primitive land, this most remote wilderness.  The tribe still tells of how a bridge spanning two words was created in the instant the American movie star reached out her arms to hug a Masai daughter.