Savannah shows Gene Marshall in the film Look Away, Look Away.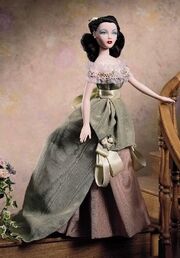 SKU: 76064
Released: 1999
Retired: 2001
Designer: Katie McHale
Company: Ashton Drake
Price: $79.95
Story Card
Edit
Look Away, Look Away was a saga of a simpler South, where chivalry still was the order of the day--and a strong-minded woman was a rare treasure.
Gene stars as just such a heroine.  After her mother's untimely death, Gene assumes her mother's duties, from running the plantation in Savannah for her politician father and serving as hostess to raising her twin sisters and finding them suitable husbands.
But when it comes to her own life, there has yet to be a cavalier to sweep her off her feet.  Except...
In a flashback, we see Gene before the mantle of responsibility has been placed on her shoulders: coquettish and carefree, she's the hit of the garden party at Thirty Thickets plantation.  Looking cool in green and fawn, all the handsome young men seek her favor.  But one man stands apart from the rest.
Across the bougainvillea, their eyes meet for only a moment.  But that quick glance etched itself in her memory and has not given her a moment's peace.
But enough of that for now.  Duties call.  Her father's first guests for today's reception are being announced--including that of a Northern gentleman from Ashtabula whose name she does not remember from the guest list...