Scarlet Temptress was a STAR Dealer exclusive of 2500 Madra dolls, half of which had one red eyebrow.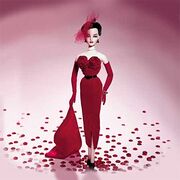 SKU: 76272 (black eyebrows)
SKU: 76410 (red eyebrow)
Released: 2001
Edition: 1250 (black eyebrows)
Edition: 1250 (red eyebrow)
Circa: 1947
Designer: Tim Kennedy
Company: Ashton Drake
Price: $120.00
Story Card
Edit
- 1947. "What's going on with this town?" groused Madra Lord into her phone. She was stretched out on her chaise lounge, newspapers strewn all over the floor. Her agent Benny, held his receiver a safe distance from his ear to avoid certain deafness. Hurricane Madra continued. "I mean, if the President can make the front page, why not me? I'm MUCH better looking and I have all my hair!" "I'm pulling what's left of mine out," sighed Benny. "What?" growled Madra. "I said, 'It's time you went out!' you need to be seen and get seen. Put on your most tempting bib and tucker and show up early at the Monolithic premier party." "And I know exactly what ELSE to do!" Madra swept to her theatrical make-up kit and pulled out a bright red stick of grease paint... That night, a siren in scarlet stepped from the limo and into the path of a dozen or so reporters. "Oooooo, the gentlemen of the press - and I use the term 'gentlemen' loosely! When I was asked to this party" she purred, "I knew you fellahs would be here, so I ROSE to the occasion." Madra flashed a dazzling smile, and raised one scarlet eyebrow - giving the photographers plenty of opportunity to get a good picture). "Now, if one of you darling boys will just escort me to where the libations are hiding..." And with that, the "Scarlet Temptress" made her way into the party on the arms of a phalanx of admirers - and onto the front page of every newspaper in the city!
Ad blocker interference detected!
Wikia is a free-to-use site that makes money from advertising. We have a modified experience for viewers using ad blockers

Wikia is not accessible if you've made further modifications. Remove the custom ad blocker rule(s) and the page will load as expected.