Secret Sleuth is an outfit worn by Gene Marshall in the film Montage.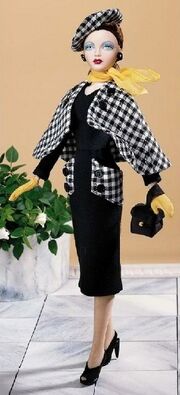 SKU: 93523
Released: 1999
Circa: 1948
Designer: Tim Kennedy
Company: Ashton Drake
Price: $39.95
Story Card
Edit
Quick!  It appears the game's afoot!!  And in Montage, a 1948 mystery set in the world of art and artifice, things are not always what they appear to be.
In the film, Gene's father (a world-renowned artist) is missing.  The key to his disappearance appears to be a seemingly innocent portrait painted by her father.  But is it as innocent as it seems?
Having narrowly escaped a confrontation with a mysterious figure in the shadowy streets of old Rome, Gene decides enough is enough.  Attending a combination art show/auction where her father's much-sought-after painting is to be sold, she leaves nothing to chance.  She dons her most Sherlock Holmesian outfit and heads to the gallery.
If any of the players in this little game of cat and mouse--and cat--have any doubts of Gene's commitment to finding her father, they all fly out the window when Gene appears in this smart ensemble.  The only thing that would have made it clearer would have been the addition of a magnifying glass (but then who knows what she has in that box purse...?).
As the bidding for her father's painting begins, the flash of Gene's yellow glove cuts through the air.  Who will own the painting at the evening's end?  That shouldn't be a secret to any sleuth!