She'd Rather Dance shows Gene Marshall in the film She'd Rather Dance.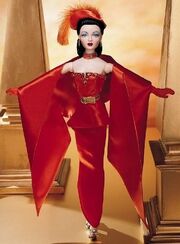 SKU: 76062
Released: 1999
Retired:
Circa: 1948
Designer: Tim Kennedy
Company: Ashton Drake
Price: $79.95
Story Card
Edit
Technicolor was never so vividly breathtaking as when She'd Rather Dance lavished eye-popping color onto silver screens across America.  Audiences were dazzled by the array of costumes and sets suffused in a brilliant kaleidoscope of flamboyant colors across the spectrum.
Gene played the high-spirited daughter of an old distinguished Boston family, one of the most sterling lineages on the Social Register.  At every party Gene was always on the ballroom floor, dancing with man after man, loving every waltz, cha cha, foxtrot, and quickstep.  Her family's reputation was impeccable, unsullied even by a breath of scandal.  So they were properly disdainful when a Broadway producer spotted Gene dancing at a cotillion and asked her to be the star of his new hit musical, She'd Rather Dance.  But when Gene actually said yes...the scandal horrified the family and titillated the society gossips!
The big showstopper of the Broadway extravaganza (and the film) was the title song.  It followed a chorus line of tuxedoed men singing a song in her honor..."But if you want a chance at romance, ask her to dance."  Gene emerged from upstage into the spotlight, gorgeous in a vibrant frosted tangerine dress with a plumed hat and dramatic long shawl.  She proceeded to dance a different dance step, from turkey trot to a tarantella, with every man in the chorus.  The audiences went wild, both on film and in the movie houses.  Success triumphed over scandal, and the family was reconciled for the brightest of all technicolor endings!