Shimmering Star is an outfit worn by Gene Marshall for a holiday television special.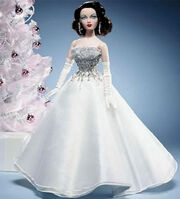 SKU: 38269
Released: 2001
Edition: 5000 Retailer's Exclusive
Circa: 1957
Designer: George Sarofeen
Company: Ashton Drake
Price: $65.00
Story Card
Edit
In 1957, Gene's second holiday television spectacular was announced by NBS--news so big that it made the cover of viewing guides and TV/radio magazines across the country.
Her 1956 spectacular was such a hit that literally thousands of fans across the country had sent letters not only to Gene, but to the network itself, filled with stories of families brought together during the hubbub of the holidays for a moment of togetherness filled with music and laughter and love.  Now their wishes had come true.
As the night approached, busy folks put aside their gift wrapping and decorating and card writing and instead popped bowls of popcorn and made cocoa and gathered in front of their televisions to join Gene in a holiday fantasy.
The appointed hour had arrived.  The NBS logo appeared onscreen, followed by the announcement that the following program was being broadcast in TruColor.  But even those with black-and-white sets knew they were in for a wonderful treat.
Then the logo faded.  Framed in a flurry of painted snowflakes, Gene appeared to float onto camera in a gown as soft and silvery white as a snowdrift capped with crystals of shimmering ice.
And families all over the country nestled together, filled with joy and love and the spirit of the holiday season.
Ad blocker interference detected!
Wikia is a free-to-use site that makes money from advertising. We have a modified experience for viewers using ad blockers

Wikia is not accessible if you've made further modifications. Remove the custom ad blocker rule(s) and the page will load as expected.