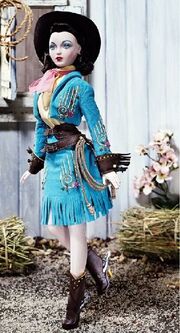 Shooting Star
shows
Gene Marshall
in
the film of the same name
.
SKU: 76402
Released: 2000
Edition: 5000
Circa: 1952
Designer: Doug James
Company: Ashton Drake
Price: $84.95
Story Card
Edit
The film Shooting Star told the story of a plucky ranch owner who saves her town from the clutches of an evil land baron.  Her scheme?  To win the prize money at Coyote Joe's Traveling Wild West Show's shooting match.  With the winnings, she can pay the mortgage on a plot of land that is the only access to the town's water supply.
The shooting match is a masterful blend of suspense and spectacle.  In her showy cowgirl costume, bedecked with beads, sequins, and "all those other fancy gewgaws city folk think we wear", Gene steps into the center ring--to the gasps of the crowd.  Mutterings of "It's a girl!" "Is this a joke?" "Who let her in?" rustle through the stands.  However, above the doubting crowd, the cheers of her friends from back home give Gene a boost of much-needed confidence.
The contest begins: balloons, flying targets, cigarettes clenched between cowboys' teeth...nothing proves a challenge for Gene.  A perfect score!  The crowd--and the members of the wild west show--goes wild.  Coyote Joe himself hands Gene the prize money and, in front of a breathless audience, offers Gene star billing for the rest of the tour.
"Shucks," Gene replies with a dainty blush, "I didn't do anythin' more than what the ranch hands and I do for fun with tin cans on fence posts.  Thanks--but if you don't mind, Mr Coyote Joe, I'll just take my prize and head back where I belong--I've got a town to save!"
Ad blocker interference detected!
Wikia is a free-to-use site that makes money from advertising. We have a modified experience for viewers using ad blockers

Wikia is not accessible if you've made further modifications. Remove the custom ad blocker rule(s) and the page will load as expected.