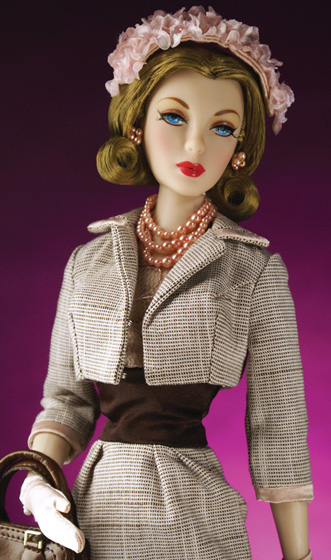 SKU: 92062

Released: 2008
Edition: 300
Circa: 1960
Company: Integrity Toys
Retail: $125.00
Gene doll with dark blonde center-parted hair, styled in chin-length flip. Red lips and soft pink eyeshadow.
Slender threads of chocolate brown and cream are the weave of the lovely, subtle fabric that is the basis of this amazingly complete depiction of mid-century cocktail fashion. This suit is tailored to perfection with a shortened bolero-cut jacket sporting a notched collar and cuffs trimmed in the palest of pink satins. The jacket is worn over a narrow three-toned dress featuring a satin, sweetheart neckline covered in a sheer pink lace, cropped beneath the bust with a high, fitted, chocolate brown waistline extending to the slim skirt. Jewelry and accessories are all matching shades with a pink pearl necklace, earrings and bracelet and dark brown ankle-strap shoes and zippered handbag. A lovely floral chapeau of pink blossoms adorns Gene's coppery gold, flip hairstyle and complements the subtly warm tones of eye makeup and lipstick.
Accessories
Edit
Brown "leather" purse, pink floral hat, and matching gloves
Brown "leather" strap heals
Pink "pearl" necklace, earrings, and bracelet.
Description
Edit
Gene Marshall was well known for her willingness to try any type of role at least once and when it became clear that television would be soon playing a major part in the entertainment industry, Gene was ready to answer the call if the role was fun and exciting. Dressed for the part of a mysterious girl lost in a large department store after business hours, our girl Gene is ready for one of the many roles that would leave a lasting impression on her fans forever.
Slender Threads depicts Gene in a smart cocktail suit and is part of the "After Hours" collection from the 2008, The Girls From Dream City convention.  The other items from this grouping include, the fashion, "After Hours" and the dressed doll centerpiece, "Twilight Girl".
Ad blocker interference detected!
Wikia is a free-to-use site that makes money from advertising. We have a modified experience for viewers using ad blockers

Wikia is not accessible if you've made further modifications. Remove the custom ad blocker rule(s) and the page will load as expected.