Smart Set is an outfit worn by Gene Marshall in the film Montage.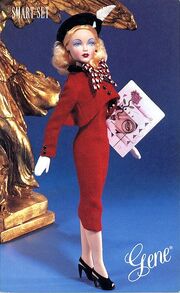 SKU: 94687
Released: 1998
Circa: 1948
Designer: Doug James
Company: Ashton Drake
Price: $39.95
Story Card
Edit
In the darkly atmospheric suspense thriller Montage, Gene Marshall led spellbound audiences into the labyrinthine coils of the European art world--a coterie of sinister forgers, cunning thieves, and murderers, where nothing is what it seems and no one can be trusted.
Filmed on location in Rome, Gene plays the lovely, innocent daughter of a renowned painter, enjoying the sophisticated roundelay of society balls, galleries, and art salons of Europe's cultured intelligentsia.  Her carefree life takes a sudden and frightening turn when her father mysteriously vanishes without a trace.  Gene is convinced the key to his disappearance lies in the haunting, surreal portrait he painted days before--a portrait that someone is willing to murder for.
Audiences will never forget the terrifying moments when Gene, clutching her father's enigmatic painting, fearfully hurries down the shadowy, twisting streets of old Rome, stalked by a menacing figure in a black trench coat.  The vivid red of her fitted sheath suit and pleated bolero jacket seems to flash a warning as the camera captures every hair-raising moment of suspense during this unnerving, deadly game of cat-and-mouse among the dark colonnaded piazzas of Rome.
By the end of the film, the killer is revealed, the father is safe, and Gene's suit was copied for the fashion runways of Paris as "Smart Set".