Spotlight
shows
Violet Waters
on Broadway.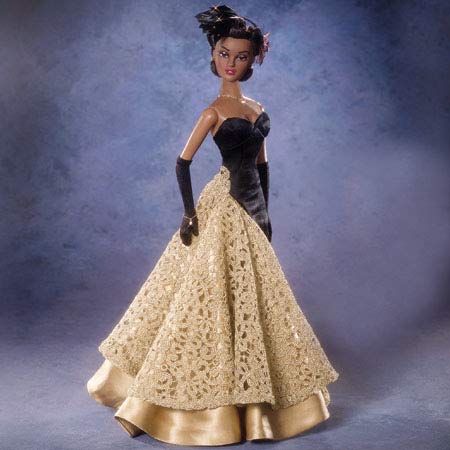 SKU: 76219
Released: 2003
Edition: 2003
Circa: 1956
Company: Ashton-Drake
Retail: $125.00
Violet doll with brown hair. Styled with side part rolled in front, low bun in back. Maroon lips, gold and purple eyeshadow.
Black satin strapless sheath dress with assymetrical gold lace and satin side skirt.
Accessories
Edit
Black feather hair ornament, elbow length black gloves.
Golden shoes.
Gold earrings, necklace and bangle bracelet.
Description
Edit
Violet Waters makes her 1956 Broadway debut in a revue featuring up-and-coming performers. Not only does she dazzle in her solo numbers but shows quite a flair for comedy! And as always, she shows quite a flair for fashion, dressed in a strapless black satin dress with an asymmetrical gold lace skirt. Includes golden shoes, black opera gloves, earrings, necklace and bracelet, a black feathered fan - and a unique feathered hair ornament.
Story Card
Edit
1956. The overture had just ended and the house lights had gone out. The audience sat in breathless anticipation as the Broadway revue began.
In the darkness, alert ears could hear the barely discernable swish of the curtain as it journeyed into the flies high above the stage. And then...
A golden pinpoint of light caught...something. A dark flower, framed by equally dark curls. And from seemingly out of nowhere came the quiet, bluesy sound of a familiar voice. A voice that hundreds of thousands had thrilled to on records and in smoky clubs. And now, its velvet tones rippled through the auditorium of one of the classiest theatres on Broadway—and into the hearts of every opening nighter.
The spotlight slowly opened to reveal Violet Waters, flower in her hair and heart on her sleeve. Notes cascaded from her lips like the lace that tumbled down the side of her costume. She held the audience entranced, and at the end of her first number, she reached up, took the flower from her hair, and let it fall on the stage, where it rested in the spotlight. Blackout!
The audience went wild! In a few short minutes, Violet had triumphed in yet another venue: the legitimate theatre. Through the evening, she sang, danced, and did comedy sketches with the rest of the bright and energetic cast. And by the end of the night—they'd hung that star on her dressing room door!
Ad blocker interference detected!
Wikia is a free-to-use site that makes money from advertising. We have a modified experience for viewers using ad blockers

Wikia is not accessible if you've made further modifications. Remove the custom ad blocker rule(s) and the page will load as expected.