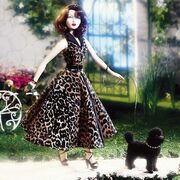 Spotted in the Park
shows
Gene Marshall
in the film
Accidental Star
.
SKU: 93326
Released: 2000
Edition: 3000 FAO Schwarz exclusive
Designer: Veronica Alvarado
Company: Ashton Drake
Price: $100.00
Story Card
Edit
Gene's light comedies were just the thing to keep audiences smiling.  Her flair for the farcical not only delighted the movie-going public; it showed her skill as an actress--one who could transform even the frothiest of scripts into a work of cinematic art.
Accidental Star was set in glamorous New York City.  In it, Gene plays an aspiring model who walks celebrities' dogs part-time.  On a sunny spring day, she picks up a poodle from one of her regular customers, famous publicity-shunning former actress Gerta Gambel.  Gerta, who treats Gene like a younger sister, loans her a pair of her signature sunglasses against the bright spring sunshine.
As Gene walks Fifi through the park, she passes a handsome young reporter, eagerly searching for an exclusive.  He sees the sunglasses, the dog...and jumps to the "logical" conclusion that Gene IS the famous actress.  Smelling a story, he strikes up a conversation, and by the time they've reached the front door of the famous actress' apartment building, Gene is totally smitten.  They make a date for dinner, and the reporter bids her goodbye with, "A fond farewell, dear Miss Gambel."
Gene is stunned--and stuck.  Will she continue the charade and pose as Gerta Gambel (and have the chance to wear an array of gorgeous gowns) or risk losing a very potential Mr Right?  How it all turns out is what screwball comedy is made of!
Ad blocker interference detected!
Wikia is a free-to-use site that makes money from advertising. We have a modified experience for viewers using ad blockers

Wikia is not accessible if you've made further modifications. Remove the custom ad blocker rule(s) and the page will load as expected.