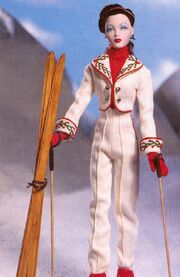 St Moritz
is an outfit worn by
Gene Marshall
for skiing.
SKU: 92257
Released: 2000
Edition: 5000
Circa: 1948
Designer: Lynne Day
Company: Ashton Drake
Price: $49.95
Story Card
Edit
On location in Italy, the work on Montage was going well.  So well that the producer declared a week-long break.
"So what are you planning to do, Miss Marshall?" asked the key grip when the cast and crew heard the news.
"I think I'll head up to St Moritz for a little skiing," replied Gene excitedly.  "I miss the New England slopes--and schussing on Redondo Beach just isn't the same!" she laughed.
And so she was off, with a new set of skis and ski togs.  But when she reached one of the most famous ski resorts in the world, the town was a flurry of activity.
"Oh!  Of course!"  Gene's hand went to her head.  "It's time for the Olympics!  I was concentrating so much on the picture I totally forgot."
But how could she forget?  This was the first Winter Olympics since the advent of WWII.  And the whole world seemed to be there, ready for the fierce but friendly competition.
Fortunately, Gene found lodging in a quaint little chalet an old Swiss couple had turned into a bed and breakfast for the duration of the Olympic excitement.  They were so taken by their lovely guest, they escorted her to a private slope that only the local skiers knew about.  And in between ski runs and steaming mugs of hot Swiss chocolate, Gene did manage to squeeze in a peek or two at the Games!
Ad blocker interference detected!
Wikia is a free-to-use site that makes money from advertising. We have a modified experience for viewers using ad blockers

Wikia is not accessible if you've made further modifications. Remove the custom ad blocker rule(s) and the page will load as expected.