Stand Up and Cheer is an outfit worn by Gene Marshall on a USO tour.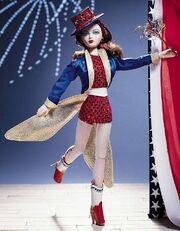 SKU: 76070
Released: 1999
Circa: 1944
Designer: Dolly Cipolla
Company: Ashton Drake
Price: $44.95
Story Card
Edit
Scarcely a week had gone by after D-Day when Gene and her fellow USO Camp Tour entertainers found themselves on a transport boat cutting across the choppy waves of the English Channel to Normandy.  The "Soldiers in Greasepaint" were coming over to the new front lines, to fight their battles for morale, spirit, and patriotism.
During their first show on Normandy land, Gene could see a new hope dawning in the faces of the soldiers she met.  The tide of war was turning in the Allies' favor at long last, and a fresh, new spirit was budding in everyone's heart.  Gene and the famous comedian USO host decided then and there that she would perform her patriotic new number for the finale, hoping it would spark morale to a bright new flame.
Gene stepped out from the wings with the energy of a sizzling firecracker, high-kicking and belting out a rousing song for America, the flag, and the Fourth of July.  Gene poured her entire heart and soul to that crowd.  She sparkled and dazzled in the sunlight, her smile radiant, her every move vibrant and bold.  Thousands of booted feet started to stomp the beat, thousands of hands clapped with wild enthusiasm.  A fresh, brisk breeze blew from the west, and set the American flag to waving proudly over their heads.  An electrifying feeling swept through the audience...an overwhelming, tingling sensation of joy, optimism, and exuberance that drove them wild.  By the end, every soldier was on his feet, arms in the air, cheering like crazy for the Red, White, and Blue!