Starburst is a complete fashion from the Studio Wardrobe™ Collection .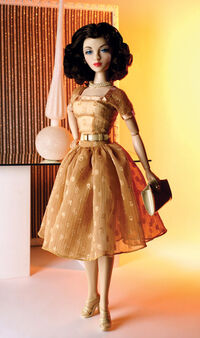 SKU: 92012
Released: 2007
Edition: 250
Circa:
Inspiration: Balenciaga
Company: Integrity Toys
Retail:
Caramel chiffon overblouse with sequins and satin ribbon trim, cream colored sheath, full sheer overskirt in matching chiffon.
Accessories
Edit
Ecru "patent-leather" belt, matching clutch.
Ecru "patent-leather" strapped sandals.
"Pearl" stud earrings, double-strand "pearl" necklace.
Description
Edit
Starburst is a deceptively simple caramel and cream-colored frock, designed to be worn from day into the cocktail hour. The bodice consists of a sheer over-blouse, striped and spangled in a repeating pattern of satin petals, banded in matching satin ribbon on the short sleeves and portrait neckline. Beneath this spun-sugar top is a slender cream-colored sheath, belted in gold buckled ecru "patent leather." The Starburst surprise comes in the form of a full sheer overskirt of the matching patterned fabric, self-banded at the waist and designed to be worn over the narrow sheath. The transparency allows for the creamy tones of the underskirt to shine through and transform Starburst from a chic day dress into a stunning cocktail look. The accessories to Starburst include ecru "patent leather" sandals and bag, and earrings and a double-strand necklace of simple "pearls."
Script / Star File
Edit
Ad blocker interference detected!
Wikia is a free-to-use site that makes money from advertising. We have a modified experience for viewers using ad blockers

Wikia is not accessible if you've made further modifications. Remove the custom ad blocker rule(s) and the page will load as expected.