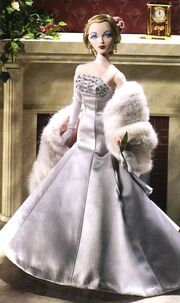 Stardust Memories
shows
Gene Marshall
at a movie premiere.
SKU: 76525
Released: 2000
Edition: FAO Schwarz exclusive
Circa: 1955
Designer: José Ferrand
Company: Ashton Drake
Price: $110.00
Story Card
Edit
Many stars went to movie premieres because their studios insisted that they go.  Many other stars went to movie premieres just to get their names in the papers, their faces in newsreels and voices on the radio.
But Gene went to movie premieres because she liked to go!  There was still something about a premiere that filled her with the same sense of wonder and excitement she'd felt since she was a girl, when a trip to the movies was a passport to love, laughter, and far off places.
And now, stunning in her silver gown, she pulled her fur stole a little tighter around her shoulders.  At heart, she was still shy Katie Marshall when faced with a "big star".  This premiere was for a film starring one of her longtime favorites.  And there he was now...
Amid the sputter of the flashbulbs and the swirling searchlights, Gene recalled a favorite memory of this Hollywood legend.  Working on one of her early films, she had looked up from her script to see him staring at her with a slight smile.  Her heart had skipped a beat as he walked nearer--and then said, "I remember studying my scripts just that way.  Keep it up and you should go far..."
Would he remember her tonight?  She held out the pink rose she had brought as a token of her admiration.  Accepting it, he smiled.  "Why, Gene Marshall," he said.  "I haven't seen you since the day on the set when you were so intent on your script..."
Ad blocker interference detected!
Wikia is a free-to-use site that makes money from advertising. We have a modified experience for viewers using ad blockers

Wikia is not accessible if you've made further modifications. Remove the custom ad blocker rule(s) and the page will load as expected.