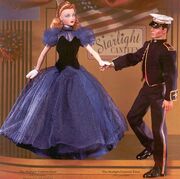 Starlight Canteen: Gene
shows
Gene Marshall
at the Starlight Canteen.
SKU: 92345
Released: 2002
Edition: 2500
Circa:
Designer:
Company: Ashton Drake
Price:
Story Card
Edit
"Hello, there--and welcome to the Starlight Canteen, where every night is Celebrity Night--because you are the stars!  Now, I know this is a little forward, but right now it's a Ladies' Choice number and I wondered if you'd care to dance!  You would?  Oh, that's swell.
"You know, we get some of the finest bands in the country to play here at the Starlight Canteen--and this is one of my favorite songs.  Yours, too?  That's wonderful!  It must be fate that they played it tonight.  When do you leave for overseas?  So soon...well, we're all very proud of the fine job our Forces are doing over there--and we hope and pray that you'll all be home soon...
"Well, that's the end of the song.  Now I have to go up onstage and join Trent for a little skit we're doing for you all tonight.
"Thanks so much for the dance.  What?  Oh, that's very sweet--and deserves a kiss on the cheek instead of a handshake.  There.  Hurry back home, safe and sound!  Are you okay?  Oh, I understand--just a little something in your eye...take care.
"Hold on, Trent--I'm on the way..."
Ad blocker interference detected!
Wikia is a free-to-use site that makes money from advertising. We have a modified experience for viewers using ad blockers

Wikia is not accessible if you've made further modifications. Remove the custom ad blocker rule(s) and the page will load as expected.