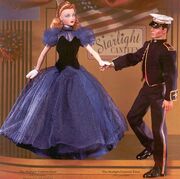 Starlight Canteen: Trent
shows
Trent Osborn
at the Starlight Canteen.
SKU: 93643
Released: 2002
Edition: 2500
Circa:
Designer:
Company: Ashton Drake
Price:
Story Card
Edit
"Hey, guys and gals!! Welcome to the Starlight Canteen. I'm Trent Osborn, and I'm going to be your celebrity host for this evening of fun.
"We all hope you're having a HECK of a time tonight, whether you're stationed on the coast or just passing through here on your way over there!
"I borrowed this captain's uniform from one of my good buddies over at Marine HQ to host the show in honor of just one of our fighting forces. So is it true what they say—IS there something about a man in uniform? You know, maybe I should have had this on when I asked Dorothy Lamour out the other night. She couldn't go, but she gave me her phone number. I know it was hers, because every time I call it, they say it's SARONG number!
"And the other day, Betty Grable asked me out! No, really, she did! I walked into her dressing room and she asked me out right away.
"Okay, enough of this chatter—right now I'm going to call up one of our beautiful hostesses—hold your horses, boys!—Miss Gene Marshall, to join me here on stage, because she and I have worked up a little number for your entertainment. Gene?"
Ad blocker interference detected!
Wikia is a free-to-use site that makes money from advertising. We have a modified experience for viewers using ad blockers

Wikia is not accessible if you've made further modifications. Remove the custom ad blocker rule(s) and the page will load as expected.