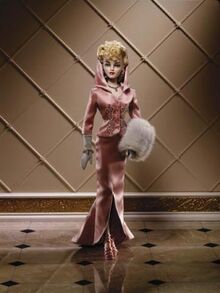 Stolen Moments
shows
Madra Lord
in
the film of the same name
.
SKU: 38260
Released: 2001
Circa: 1942
Designer: José Ferrand
Company: Ashton-Drake
Retail: $99.95
Madra doll with pale blonde hair. Styled with curly bangs. Red lips.
Pale pink "silk" evening suit, with hooded jacket featuring embroidery and beading detail.
Accessories
Edit
White "fur" muff, white gloves.
Pink cord shoes.
Earrings, bracelet, necklace.
Description
Edit
An heiress, in love with the son of the stable master, steals away from a stuffy party for a cup of tea in the stables. In "Stolen Moments," Madra steps out in this antique rose evening suit with a mermaid-style skirt. The hooded jacket has an embroidered bead design that dances across the front.
Story Card
Edit
Critics and movie fans were always amazed at the richness of character Madra Lord brought to debutante roles (and Madra played debs longer than anyone in the history of film!).  Madra was something more than just a poor-little-rich-girl; her portrayals had dimension and depth.
Maybe it was because Madra had grown up as Mabel--who never had to do without, but wanted to do with so much more.  Maybe it was the nights of wide-awake dreaming, imagining what it must be like on the right side of the tracks that gave Madra the key to playing the kind of society girl moviegoers could root for.
Take, for example, the way Madra handled the lead character in Stolen Moments, one of her many box office smashes.  In it, she laughs at the upper crust and foolishly falls in love with the son of the family's stable master.
In the film's climactic scene, she leaves a stuffy party to make her way through the wintry grounds of the estate to meet her lover.  Hood covering her head and muff warming her hands, she steps into the stables to find...his father, the stable master, brewing a pot of tea.  "Care for a spot, miss?" he says, nodding toward a chair.  Looking around questioningly, she sits.  "Oh, he's not here, miss.  I sent him to town.  Because there's a little something you and me have got to discuss..."
Whatever the outcome, Madra knew the audiences would be with her whichever decision was made.  Because that's what made her a STAR!
Ad blocker interference detected!
Wikia is a free-to-use site that makes money from advertising. We have a modified experience for viewers using ad blockers

Wikia is not accessible if you've made further modifications. Remove the custom ad blocker rule(s) and the page will load as expected.