Striking Gold is a gown worn by Gene Marshall to accept an award for her film The Black Ribbon.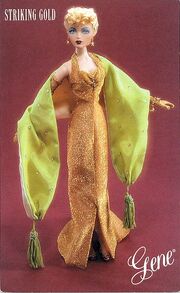 SKU: 96407
Released: 1995
Retired: 1998
Circa: 1943
Designer: Timothy Alberts
Company: Ashton Drake
Price: $29.95
Story Card
Edit
One of the surprise recipients at the Golden Star Awards last night was actress Gene Marshall, winner of the Best Actress Award for her role in The Black Ribbon.  We say "surprise" only because it's a real Tinseltown rarity for an actress only two years into her Hollywood career, and barely twenty, to win such kudos from the industry and public alike.  But Miss Marshall's graciousness and poise, as she accepted the award in a gown as glittering and golden as her statuette, hint at even greater awards to come.
Striking Gold is a golden knit sheath with a portrait neckline, accented with rhinestones at the bustline.  With matching golden knit gloves and a tasseled, beaded stole in pale chartreuse and shell pink, Gene also wears "golden star" jewelry to celebrate her award.  Circa 1943.
No matter how much the critics praise you and the public adores you, the true recognition you seek as a Hollywood star comes when you earn your first industry award.  And tonight is the night, as you step to the podium to accept the coveted Golden Star Award for Best Actress.
The morning after Gene enjoys her career triumph at the ceremony, The Hollywood Gazette features a headline above her picture that reads "Striking Gold".  Gene earns this adulation not only for her career achievements, but for the fabulous impression she makes at the podium as she humbly accepts her Golden Star statuette.
Gene takes the audience's breath away in her flowing sheath and jeweled wrap.  Deftly cut to accentuate Gene's lovely figure without revealing too much, the gown is tailored in glittering gold jersey knit...but the most lovely glow comes from her radiant face as she quietly says "thank you" with genuine gratitude.