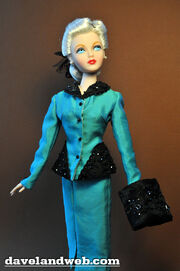 Suited to Be a Colonel
is an outfit worn by
Gene Marshall
when inducted as a Kentucky Colonel. From the 2003 Derby Dreams convention.
SKU: 37963
Released: 2003
Edition:
Circa: 1948
Designer:
Company: Ashton Drake
Price: Part of convention package
Story Card
Edit
"Howdy, Colonel!"
At first Gene didn't turn around, but when she felt a light tap on her shoulder, she realized that the refined voice was speaking to her.  She laughed.
"I'm sorry--I'm still not used to being a true Kentucky Colonel.  Howdy, back!"
The gentleman in the white suit smiled at her.  "Colonel Marshall, this morning you have been given your official commission as one of the Honorable Order of Kentucky Colonels, so from now on, you'd better get used to being referred to as one of the finest group of folks that ever sipped a julep."
"I know," Gene replied, blushing slightly.  "When I saw the list of other Colonels, my heart skipped a beat.  So many of my Hollywood friends are already Colonels--Bing, Irene, Mae, and Fred--and so many other important people.  I'm just so touched at being asked."
"Well, as one Colonel to another," said her escort as he leaned closer to Gene in a conspiratorial manner, "you are one of the prettiest Colonels we've had in quite a while!"
He offered her his arm, bowing slightly, and Gene took it, clutching her commission certificate to her heart as they made their way through the crowd of well-wishers...
Ad blocker interference detected!
Wikia is a free-to-use site that makes money from advertising. We have a modified experience for viewers using ad blockers

Wikia is not accessible if you've made further modifications. Remove the custom ad blocker rule(s) and the page will load as expected.