Sunday Afternoon is an outfit worn by Gene Marshall.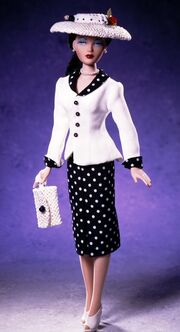 SKU: 93521
Released: 1999
Retired: 2001
Circa: 1953
Designer: Abigail Haskell
Company: Ashton Drake
Price: 39.95
Story Card
Edit
Rain Song had wrapped for the weekend--and Gene was taking advantage of the Sunday afternoon to take a stroll by the New England seaside.  Her thoughts traveled back to family vacations when the Marshalls left Cos Cob for their cottage on the coast.
Walking along the wharf in her casual Sunday best, she stopped at a small stand that sold souvenirs.  The grizzled salt who ran the stand was deftly assembling a ship-in-a-bottle when Gene walked in.  He looked up, and his tired eyes grew brighter as he squinted at her.
"'Scuse me, miss--but don't I know you?" he said.
Gene blushed prettily.  "I don't think so, captain.  My name is Katie--I'm from Cos Cob..."
"Been a lot of places, but I never been there," the captain said.  He thought for a minute, then snapped his fingers.  "Of course--you look just like that pretty movie star, Miss Gene Marshall.  She's one of my favorites."
An impish smile played around Gene's lips.
"But you know," the captain went on, "you're pretty enough to be a movie star yourself!  Didja ever think of going out to Hollywood and getting into the moving pictures?"
Gene's eyes sparkled.  "All the time, sir--all the time!  And thank you for the compliment.  And by the way, captain, that's a lovely ship-in-a-bottle--is it for sale?"