Symphony in G shows Gene Marshall in the film of the same name.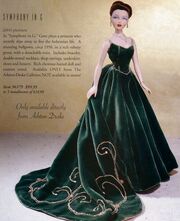 SKU: 96379
Released: 2000
Edition: Ashton-Drake exclusive
Circa: 1950
Designer: Teresa Butts
Company: Ashton Drake
Price: $99.95
Story Card
Edit
Symphony in G is a moving story of art, inspiration--and true love.
In it, Gene plays a princess, a devoted patron of the arts.  But a letter from a struggling composer dismays her.  Having been born into wealth, the letter says, she has little knowledge of art that truly reaches the hearts of the people.  Angrily, she throws the letter aside.
But is it true?  Secretly she slips away to live the bohemian life.  In disguise she meets Rudolph, the talented (and handsome) composer who wrote her the letter.  Taken by her beauty, he draws inspiration from it.  Love blossoms--and then a message: an anonymous patron is to finance Rudolph's symphony, with Rudolph himself conducting.
The night of the performance, the response is tumultuous.  Then Rudolph shouts, "I present to you my inspiration," and he leads her onstage, not noticing she is dressed regally in a beautiful green velvet gown with a train.  Diamonds glitter as she takes his arm.  Suddenly, Rudolph is aware the audience is bowing.  Then the concertmaster says quietly, "Ladies and gentlemen, Mr Rudolph's patron--the princess."
Stunned, Rudolph looks at her and bows.  She drops to a deep curtsy as jeweled green velvet folds around her.  "Would you do me the honor of an encore?" she says, lifting her eyes to adoringly gaze into his.
"Of course, Your Highness--my love," Rudolph replies.  And he takes the podium, as she sits at his feet and the music swells...
Ad blocker interference detected!
Wikia is a free-to-use site that makes money from advertising. We have a modified experience for viewers using ad blockers

Wikia is not accessible if you've made further modifications. Remove the custom ad blocker rule(s) and the page will load as expected.