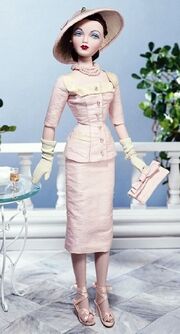 Table for Two
is an outfit worn by
Gene Marshall
.
SKU: 93145
Released: 2000
Edition: 5000
Circa: 1954
Designer: José Ferrand
Company: Ashton Drake
Price: $34.95
Story Card
Edit
Gene was sitting by the pool, reading scripts, when her telephone began its insistent ring.  Marking her place, she took the receiver from its cradle.  As she picked it up, the line fairly crackled with excitement.  She recognized the excited voice of Reuben Lilienthal's assistant.
"Can you get here right away?  R.L. wants to talk to you personally about a proposed project!  He says he'll take you to lunch..."
An invitation to lunch with the head of Monolithic Studios about a project?  Gene gathered the dogs into their private play yard and hurried upstairs to her closet.  The yellow?  Too frivolous.  The plaid?  Too much distraction for a serious lunch meeting.  Choice after choice fell in a pile on Gene's chaise lounge.
Then, her hand fell on the perfect ensemble for this spur-of-the-moment meeting: a pale pink suit with soft mint trim.  Feminine, but with businesslike lines.
She hurried into her outfit, fixed her hair and face, grabbed her purse, gloves, and hat, checked the dogs again, and headed for the garage.
Soon, she was seated at a table for two with R.L. in one of Hollywood's favorite spots for dining and deals, taking in all the details of the project that was simmering in R.L.'s imagination.
"I call it Destiny," he said, "and you are destined to play the lead!"
And Gene blushed as prettily pink as her suit...
Ad blocker interference detected!
Wikia is a free-to-use site that makes money from advertising. We have a modified experience for viewers using ad blockers

Wikia is not accessible if you've made further modifications. Remove the custom ad blocker rule(s) and the page will load as expected.