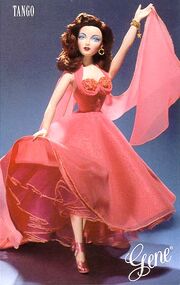 Tango
is an outfit worn by
Gene Marshall
in the film
Tango
.
SKU: 93545
Released: 1997
Retired: 2000
Circa: 1951
Designer: Tim Kennedy
Company: Ashton Drake
Price: $39.95
Story Card
Edit
In these times when Hollywood is brimming with starry-eyed hopefuls, a girl needs to be as multi-talented as possible to succeed in show business.
All those ballroom dance lessons paid off for Gene when she accepted the lead role in the sizzling romantic film Tango.  In this cinematic masterpiece, Gene plays the daughter of a U.S. diplomat in exotic Buenos Aires, Argentina.  As lively as she is lovely, she is the toast of the capital during the glittering Peron years.  She first meets the fiery, dark-eyed artist who would change her life at an embassy ball.  They dance the tango--the first of three such dances during the film.
It is without a doubt the second dance that heated movie houses.  Slipping from the embassy during Carnival, Gene dances with her lover--he the vital male, she the irresistible temptress.  They glide as one, sinuous body, suddenly parting to strike a pose electric with smoldering drama.  Their eyes are locked with scorching intensity, and their simmering passion leaves audiences breathless...and thrilled.
In Tango, Gene wears the ultimate dancer's dress, suggesting sensuous movement even when perfectly still.  It is tailored of multi-layered coral chiffon with exotic beaded accents at the bosom, and a dramatic attached stole.  Golden hoop earrings and bracelet add the finishing Latin touch to this beloved Hollywood film that becomes THE date movie of the year.