Tea Dance depicts Ivy in a blue and red party outfit.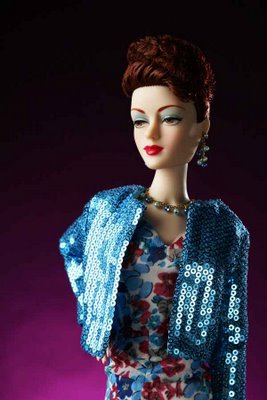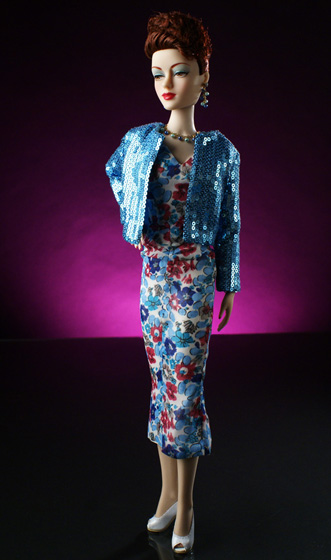 SKU: 92059B
Released: 2008
Edition: 100
Circa: 1930's
Company: Integrity Toys
Retail: $150.00 The Girls from Dream City table centerpiece - Gene Convention XIII, Orlando, Florida, 2008
Notes: This is a color variation of one of the outfits in the Madra Golden Riviera gift set.
Ivy doll with dark auburn hair pulled into curly up-do. Red lips, blue eyeshadow.
Blue and red floral sheath, blue sequined bolero jacket.
Accessories
Edit
n/a
White open-toed pumps.
Blue bead earrings, blue bead necklace.
Description
Edit
Always the sophisticated party girl, in Moon Over Orlando Ivy "Vee J." Jordan traded her director garbs for a smart party outfit for one of the memorable scenes of the movie set under the stars of Orlando, Florida.
A bold and perfectly scaled printed sheath dress is topped by a sky blue micro sequined bolero with matching jewelry and white open toe pumps. Ivy's dark auburn hair is styled alluringly in a very period updo which compliments this look to a "tee'!
Ad blocker interference detected!
Wikia is a free-to-use site that makes money from advertising. We have a modified experience for viewers using ad blockers

Wikia is not accessible if you've made further modifications. Remove the custom ad blocker rule(s) and the page will load as expected.