The King's Daughter is a doll showing Gene as royalty in the film The King's Daughter.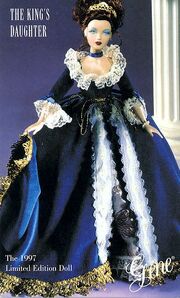 SKU: 93525
Released: 1997
Edition: 5000, Young Designers of America
Circa: 1948
Designer: Michele Gutierrez
Company: Ashton Drake
Price: $99.95
Story Card
Edit
Only through the movies can you be utterly swept away to magical lands and far away times, to share the adventures of dashing heroes and intrepid heroines.
Such was the allure Gene felt when she read the script for The King's Daughter.  The sweet blend of romance and lighthearted comedy convinced Gene to star in this gem of a film.
Gene plays a princess of a tiny European kingdom.  Pampered and sheltered, Gene longs for adventure from stifling palace life.  When her father, the king, declares she is to wed a man she has never met, the fiery maid rebels and escapes into the postcard-pretty village disguised as a commoner.  Her initial excitement quickly turns to dismay as she discovers the hardships and perils of ordinary life.  She is forced to toil as a serving wench at an inn, where she is saved from a ruffian's advances by a handsome but infuriatingly teasing highwayman.  She travels across the panoramic countryside with the vexing highwayman a step behind.  After he daringly whisks her from the clutches of a villainous baron, she realizes her hopeless love for him.  When she tearfully confesses this--he is the prince she was to wed!
Gene is every inch a princess in this eighteenth century style gown of royal blue velvet embellished with lace and gold braid over a hand-beaded lilac underskirt.  The tiara was a gift from her princely "highwayman"--the crowning touch to a happy-ever-after ending.