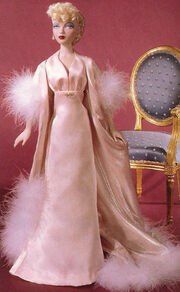 The Kiss is a film costume of Gene Marshall's.
SKU: 96410
Released: 1995
Retired: 2002
Circa: 1946
Designer: Tim Kennedy
Company: Ashton Drake
Price: $29.95
Story Card
Edit
I'll remember the end of this film as long as I live.  There was Gene Marshall "slipping into something more comfortable" before sharing a romantic moment with her onscreen husband as the two held each other in their arms, looking out over the twinkling lights of the Manhattan skyline.  And then he kissed her, tenderly, yet so passionately...and the credits started to roll as the scene faded to black.  It was the end of the movie, but not for me.  That perfect kiss went on and on, even as I walked out of the theater in perfect bliss.
The Kiss invites romance with a marabou-trimmed pink satin peignoir lined in shimmering silver lamé.  Also included is a matching gown with "diamond" pin, earrings, and high-heeled mules.  Circa 1946.
You remember how you used to be thrilled by the languid love scenes played by your favorite stars.  And now it's you on the set, waiting to play that scene with a leading man the world's women would die for, could they but seem him at a distance.  Soon, you'll be in his arms, in front of the cameras!  And at the end of the scene...the kiss!
In Hollywood's golden age, there's a love story the public never tires of.  After an evening on the town, the couple returns to Gene's penthouse apartment.  He puts a record on the phonograph.  She slips into something "more comfortable".  For Gene at this moment, everything must be perfectly romantic: her dramatic entrance back into the scene from the bedroom, her stunning costume, even the sparkling "diamond" brooch worn provocatively at her bustline.
Gene's pink satin gown and peignoir, lavishly trimmed in dazzling white marabou feathers, are of legendary design, hearkening back to the slinkiness of Jean Harlow, and looking forward to the buoyant sexiness of Marilyn Monroe.  Gene captures thes cene with smoldering looks, the toss of her head, the touch of her hand on his.  As the credits roll, Gene receives "the kiss"...and we can only guess what happens next!