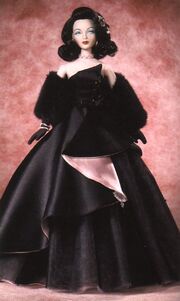 2000 Party Tyme convention doll
Toast at Twelve
shows
Gene
at a New Year's party.
SKU: 76276
Released: 2000
Edition: 700
Circa: 1949
Designer: José Ferrand
Company: Ashton Drake
Price: $290.00 Part of convention package
Story Card
Edit
It was three hundred sixty-four days, eleven hours and fifty-nine minutes into 1949. A hush had fallen over the happy crowd at the New Year's Eve party in the Grand Ballroom. The M.C. had asked Gene Marshall to join him onstage to call out the final seconds of the last decade and to lead the toast as the clock struck twelve. People held their collective breath as Gene counted out the 1940's. "Five. Four. Three. Two. One! Here's to all of you -- and may the Fifties be, well, nifty!" The crowd laughed at Gene's clever wordplay -- then raised their glasses to toast the new decade. Smiling, Gene left the stage. Skirting the crowd, she stepped onto the balcony for a moment alone, pulling her fur around her shoulders against the night breeze. she looked out over the city, taking a moment to reflect on all the exciting things that had happened over the past ten years. How could a girl be any luckier? Suddenly, she felt a light tap on her shoulder. She turned around -- and there he was. They shared a warm friendly embrace. And then, almost shyly, he leaned forward and planted a tentative New Year's good luck kiss on Gene's upturned cheek. "Just what i needed to start the new year right," Gene smiled. :Now I know that next year will be absolutely marvelous. Happy 1950 -- and here's to us!"
Ad blocker interference detected!
Wikia is a free-to-use site that makes money from advertising. We have a modified experience for viewers using ad blockers

Wikia is not accessible if you've made further modifications. Remove the custom ad blocker rule(s) and the page will load as expected.