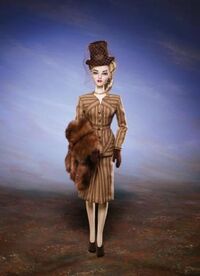 Top This
shows
Madra Lord
in the film
She Went to Reno
.
SKU: 76800
Released: 2002
Edition: 3,500
Circa: 1940
Designer: José Ferrand
Company: Ashton-Drake
Retail: $99.95
Madra doll with ash blonde hair. Red lips, tan eyeshadow.
Brown and tan striped jacket and front pleat skirt.
Accessories
Edit
Brown "fur" stole, brown top hat with veil, brown gloves.
Brown "suede" pumps.
Champagne "pearl" earrings, necklace and double strand bracelet.
Description
Edit
In the film, "She Went to Reno," Madra's character sees her husband from a distance, sitting in a restaurant - with a beautiful blonde. She firmly readjusts her stylish hat and stomps over to the table to give them a piece of her mind. A sleek striped suit - and what a hat to top it all off!
Story Card
Edit
Nobody could top Madra Lord when it came to fast-talking dames with a hard edge and a heart of gold.  Take her character in She Went to Reno , for instance.  There's a scene in the beginning of the film that's gone down in history as a true classic in the "Fast-Talking Dames" genre.
Picture this: Madra, looking sleek and sassy in a striped suit and a fashionable veil-swathed top hat perched atop her head, slides through the doors of a fashionable restaurant.  She's just heard her best friend's outpouring of grief about philandering husbands and other women and quickie divorces in Reno...
Take a look at Madra's eyes as she surveys the room, eager to find someone--ANYone--to share this juicy tidbit with.  Never before has black-and-white captured Madra's flashing green eyes with such dash.
Then her eyes come to rest on a corner table where HER husband sits--with a giggling blonde!  In close-up, Madra's face goes from recognition to disbelief to hurt to anger in a matter of seconds.  Then, setting her hat firmly on her head, she advances on the table, drums beating out a rhythm underneath--and the fun begins.
From that point on, audiences witnessed one of the most fast-paced and hysterical dressing-downs ever recorded on film.  Madra, hardly stopping for breath, proceeds to recount five years of marriage in five minutes, pauses, adjusts her hat, picks up a water glass, takes a sip--and douses her embarrassed spouse, leaving him stuttering and the audiences in stitches.
Ad blocker interference detected!
Wikia is a free-to-use site that makes money from advertising. We have a modified experience for viewers using ad blockers

Wikia is not accessible if you've made further modifications. Remove the custom ad blocker rule(s) and the page will load as expected.