Torch Song shows Violet Waters on a television special.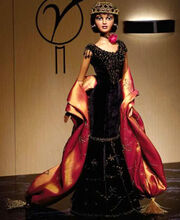 SKU: 76700
Released: 2002
Edition: 3000
Circa: 1920s via 1955
Designer:
Company: Ashton Drake
Price:
Story Card
Edit
1955.  The Television Spectacular had arrived!
Always reinventing itself, television, still a babe in the entertainment woods, was constantly coming up with new and exciting ways to entice the now tens of millions of viewers to stay home in the family room or den, glued on their sets.  And the One-Night-Only-Spectacular was one way networks (and advertisers) could get their grip on that viewing audience.
One such spectacular was the jewel in the crown for the NBS Networks: "The Music Goes Round"!  In a mere ninety minutes, NBS was going to trace the history of music from the first time cavemen banged two rocks together through the popularity of the mambo (rock 'n' roll was still just a little TOO controversial for NBS!).
The network had asked all the big names in the entertainment business to take part--and Violet Waters was one of the first they asked.  Not only was she to be a celebrity host, she would be featured in a Harlem nightclub sequence, set in the 1920s.
Suddenly, it was The Night.  Live.  And Violet, beautifully costumed, not only wowed the actors playing the nightclubbers--all America stopped cold over their hot TV dinners and listened.  For there was Violet Waters, live and in their homes--draped on a piano, bathed in beads and tossing the tassels on her shawl, singing the heart out of a torchy 20s tune.  And the next day, record stores from California to Maine sold every last of their Violet Waters 78s and 45s!
Ad blocker interference detected!
Wikia is a free-to-use site that makes money from advertising. We have a modified experience for viewers using ad blockers

Wikia is not accessible if you've made further modifications. Remove the custom ad blocker rule(s) and the page will load as expected.