Town and Country is a complete fashion from the Studio Wardrobe™ Collection .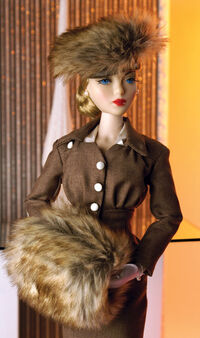 SKU: 92032
Released: 2007
Edition: 250
Circa:
Inspiration: Adele Simpson
Company: Integrity Toys
Retail:
Cream satin sleeveless blouse, brown tweed notched-collar jacket with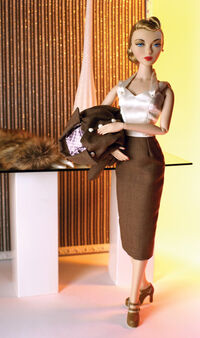 shirred waistband and pleated peplum, and matching pencil skirt.
Accessories
Edit
White gloves, "fur" muff and matching band hat.
Double strap brown "leather" shoes.
Pearl button earrings.
Description
Edit
There's something about a well-tailored woolen suit that speaks of stability, of wood-paneled station wagons and a well-padded bank account. Town and Country not only proclaims this in spades, but throws in a little daring style, some sleek proportions and the good breeding of fabrics, cut and perfectly realized. A pencil-thin, umber skirt is topped with a matching jacket, sporting a broadly collared, notched neckline and contrasting white buttons over a pleated peplum. A sumptuous 'fox' hat is banded in wool, trimmed in 'leather' and companion to a luxurious muff of matching 'fur'. The accessories are of course, only the best. Double strapped and buckled brown 'leather' pumps are the shoe of choice and crisp white gloves and button earbobs complete this sporty ensemble. Town and Country is a stylishly classic look you can take to the city.
Script / Star File
Edit
Ad blocker interference detected!
Wikia is a free-to-use site that makes money from advertising. We have a modified experience for viewers using ad blockers

Wikia is not accessible if you've made further modifications. Remove the custom ad blocker rule(s) and the page will load as expected.