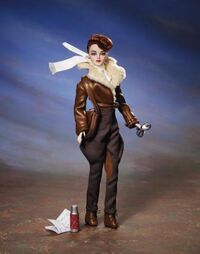 Turbulence shows Madra Lord in the film Turbulent Hearts.
SKU: 38234
Released: 2001
Circa: 1946
Designer: Lynne Day
Company: Ashton-Drake
Retail: $99.95
Madra doll with red hair. Top roll and rear chignon. Red lips, ??? eyeshadow.
"Leather" bomber jacket, cream blouse, olive twill jodhpurs.
Accessories
Edit
"Leather" shoulder bag, flight goggles, cream "silk" scarf, thermos, map, hosiery.
Brown "leather" lace up boots.
Copper stud earrings.
Story Card
Edit
1946.  They were among the many unsung heroines of WWII: aviatrixes who jockeyed war planes from factories to airfields and shipping points.
The inspiring film Turbulent Hearts cast Madra as one of this special breed: a tough cookie with the steely resolve to be one of the guys--but with the heart of a woman beating beneath her leather flight jacket.
At the climax of Turbulent Hearts, Madra's character hears tragic news about her lover (played by Trent Osborn) over the airfield radio.  His plane has apparently been shot down over enemy lines and he is reported missing in action.  The script called for Madra to keep a stiff upper lip until the crew had left the hangar, then dissolve in a pool of tears, asking only for her lover's unseen forgiveness and his safe return.
But when the time came to shoot the breakdown scene, Madra created her own turbulence.  "This is a lot of bushwah!" she shouted at the director.  "No self-respecting dame in this position would blubber like a baby--she'd do the bootstrap thing.  Trust me, I know!"
With that, she proceeded to play the scene her way.  When the last crewman had left the room, she picked up a chair and smashed it against the wall, strode to the commander's desk, snapped up a handful of flight charts, started to leave...then returned to pick up a Thermos, toss it in the air, and stuff it in her shoulder bag, ad-libbing, "There might be turbulence, baby--but we've been through all that before, haven't we!"
And that is the version that made the final cut!
Ad blocker interference detected!
Wikia is a free-to-use site that makes money from advertising. We have a modified experience for viewers using ad blockers

Wikia is not accessible if you've made further modifications. Remove the custom ad blocker rule(s) and the page will load as expected.