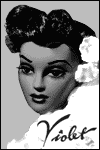 This chart is a work in progress that collates together all the information about
Violet
and her life. It includes both her films, singing performances, and available data about her other Hollywood and non-Hollywood related activites. At the moment it is heavy on the Ashton-Drake produced items. Help with Integrity material would be appreciated!
Date of Film

Name of Film or Event

Associated Dolls & Outfits

1941

Le Jazz Hot-Chat Orchestra debut performance

1943

Jazz club performance

1944

Manhattan Escapade

Out of the Blue (D)

1946

Interview

1946

Studio party (Halloween)

Lady Cat (O)

1948

Old Port Jazz Festival

Mood Indigo (D)

1948

Kentucky Derby Weekend

Kentucky Colonel Breakfast (D)

1951

Golden Star Awards Ceremony

1953

Personal time (at home)

Violet Nights (D)

1954

AdLib Awards Ceremony

Glissando (D)

1955

TV Special: "The Music Goes Round!"

Torch Song (D)

1956

Broadway Revue debut performance

Glowing Reviews (D)

Spotlight (D)

1957

TV Show: "Who's That Face?"

Evening Sunrise (O)

1958

Personal time (church)

1958

Record Cover: "Fascination"

Fascination (D)
Ad blocker interference detected!
Wikia is a free-to-use site that makes money from advertising. We have a modified experience for viewers using ad blockers

Wikia is not accessible if you've made further modifications. Remove the custom ad blocker rule(s) and the page will load as expected.