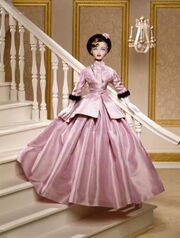 Winter's Romance
shows
Gene Marshall
lighting presumably the Rockefeller Center Christmas tree.
SKU: 93644
Released: 2002
Edition: 2,500
Circa: 1954
Designer:
Company: Ashton-Drake
Price:
Lavender strapless dress with silver bead trim, matching jacket trimmed in "fur."
Accessories
Edit
A "fur" hair band.
Rhinestone earings.
Description
Edit
Gene is thrilled to light the Big City's holiday tree, relishing the brisk East Coast weather in "Winter's Romance". She's beautiful in a lovely lavender strapless dress with silver bead trim and a lavender jacket trimmed in "fur," and a "fur" hair band. Rhinestone earrings give a wintry sparkle.
Story Card
Edit
There it stood, tall and green, against the wintry city sky.
Hollywood star Gene Marshall was this evening's guest of honor, having been asked by the Mayor to light the Big City's spectacular holiday tree.  And Gene had happily left the winter warmth of California to bask in the bracing East Coast air she associated with the season.
The crowd had gathered in the dusk, cardboard cups of coffee and cocoa sending their steam off into the night.  The flashing city neon lights gave a festive look to the night sky, casting a cheerful glow.
Gene looked into the crowd, and gave a little smile as she saw young couples snuggling together in the winter's chill, using each tiny gust of wind as an excuse to cuddle closer.  The very sight took her back to skating parties and sleigh rides and popping corn by the fireplace.  Now, with a little flurry of snow, the scene would be postcard perfect...
As if on cue, the clouds above began to put a filigree of snowy lace on Gene's fur bandeau.  Drawing her lavender jacket a little tighter around her shoulders, Gene stepped eagerly to the microphone on the stage in front of the still-dark fir.
"Happy holidays!"  As she threw the switch, the tree blazed with colored lights: a tribute to the joy of Christmas and to winter's romance.  And as the crowd roared its approval, Gene closed her eyes and enjoyed the magical moment.